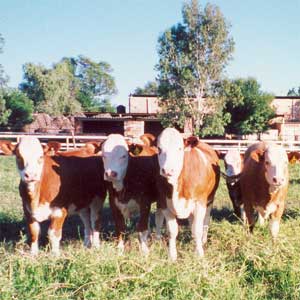 The Simmental Breed in Mexico
The Simmental breed came to México in the early 70´s , and became more popular with the importation of 10 Simmental bulls (8 from Germany and 2 from Switzerland) made by the Government for the National Reproduction and Artificial Insemination Institute (INIRA)

But it was in January 1982, when 16 breeders got together and form the Mexican Simmental Association, and then 1988 it was change the name to Mexican Simmental Simbrah Association, because of the important role of the Simbrah breed, a hybrid breed with 5/8 Simmental 3/8 zebu in the tropic area of the country.

Today the Association has 317 active members in almost all he states of the Mexican Republic, registrating around 10,000 animals per year.

The Association headquarters are in Monterrey, N.L. (200 Km. from the United States Border) and it was the first Association in the country to have a Genetic Evaluation, and today is still the leading Association using the BLUP method to have a multi-breed evaluation and starting to work in the carcass quality traits.

Even, not many Simmental breeders milk their cows, the Association has a program with the Mexican Holstein Association to evaluate milk production and Quality.
---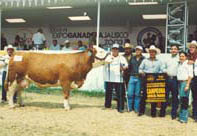 Champion cow of XXII National Simmental Simbrah Show in Guadalajara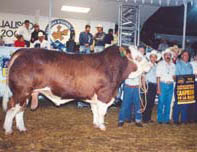 Champion bull of XXII National Simmental Simbrah Show in Guadalajara