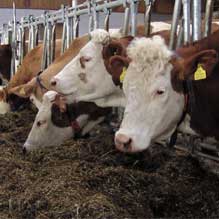 First officially results of the milk control in Czech Republic for the control year 2002/03 are available. According to this results control year 2002/03 showed small decline of the dairy cow population in Czech Republic. Czech Fleckvieh present actually 47.1 % of all dairy cows in our country. Milk production of Fleckvieh cows is growing during the last years constantly. Actual level of milk production of all Fleckvieh cows under milk control reached 5 703 kg of milk, 3.46 % protein and 4.21 % of fat with an average calving interval 401 days.
In connection with mil results of Czech Fleckvieh one more remark is necessary: 70.2 % of all Fleckvieh cows is kept in so-called LFA (Less favorable areas). Average milk production in this regions reached 5 615 kg of milk, 3.46 % protein and 4.24 % of fat.
Other part of the Fleckvieh populations is kept in lowland regions. This part of Fleckvieh population (52 796 cows) produced 5 930 kg of milk.
Cow with the highest milk production (ID 103812 601) belong to the farm AGRIS Jedovnice, Ltd. On the second lactation she produced 14 208 kg of milk, 3.39 % protein and 482 kg protein and calving interval 366.
One of the best farm with Czech Fleckvieh was Agrodružstvu Naceradec with the average milk production 8 828 kg of milk, 3.36 % protein and calving interval 379 days.
Holstein is the second largest dairy population with about 163 000 of lactation of cows under milk control and milk production 7 300 kg of milk with 3.31 % of protein and 3.99 % of fat. Higher milk production is related with the other problems, above all in the reproduction. Calving interval of Fleckvieh cows is 16 days shorter than by Holsteins.
---