In co-operation of Research institute of animal production Prague Uhrineves and Czech Fleckvieh breeders association (
www.cestr.cz
) was an total merit index suggested and approved for Czech Fleckvieh. We used experience with GZW from Germany and Austria and other indexes used in dual purpose population.
The new index SIC is composed of 40% of milk, 24 % of beef and 36 % of fitness traits. In the Czech Republic are not the breeding values for longevity estimated, therefor in the SIC was indirect indicators of longevity used. From indirect traits seem to be most important the feet&legs and udder traits. Both of them are included in the SIC.
For the year 2004 we count with the Test day model implementation for estimation of breeding values of the milk production and with the index extention for breeeding values of somatic cells count and persistention of lactation.
---

Proportion of the group of traits in different countries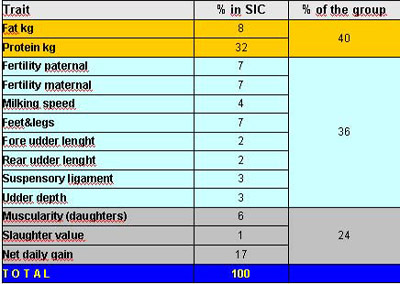 Composition of the SIC index for Czech Fleckvieh
Do you remember this interesting picture of Gaussian curve?