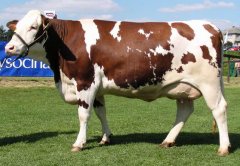 About 50 % of the total dairy population in Czech Republic is based on Czech Fleckvieh cattle as a typical dual purpose breed.
Milk control results of the last year seems to show very positiv trend in milk production. In comparison to the year 2003 the average milk production of the Czech Fleckvieh population increase for 146 kg of milk.
Czech Fleckvieh cattle has reached an average of 5 854 kg of milk, 4,16 % of fat, 3,42 % of protein. It is important to say that about 70 % of the Fleckvieh cows are producing in LFA (Less favourable areas).
Historicaly for first time the milk production of the cows on the II. nd and higher lactation overruns the level of 6000 kg of milk!
Important indicator of reproduction - calving interval - haven´t changed compare to the last year. With an average of 400 days of the calving interval are the Czech Fleckvieh breeders not satisfied, anyway it is 21 days less than in Czech Holstein population.
Picture 1: Champion from the VII. Czech Fleckvieh National show (Radesinska Svratka). Breeder: ZD Malec, 100 days: 2941 kg milk, 3,98 % fat and 3,77 % protein
For more info contact
This email address is being protected from spambots. You need JavaScript enabled to view it.