Jersey farm in South Western Cape
Nestling on the foothills of the Langeberg mountain range halfway between the two towns Swellendam and Heidelberg in the South Western Cape, South Africa the beautiful dairy farm Dundonald is located. This farm has a total of 1100 ha from which 60 ha is under computerize irrigation, 200 ha cultivated fields and 500 ha mountain fields. The average annual rainfall is allmost 700 mm per year.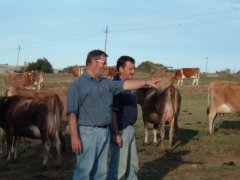 The owner, Michael Barry, keeps an outstanding Jersey herd at his familyfarm. More than 70% of South Africa\'s milk is produced on pastures in the fertile coast region and more than half of dairy cattle in this area are Jersey. When Michael Barry\'s son Michael- John moved to New Zeeland to work with Ambreed, a new farm manager Pierre Laesecke, joined the business.

On Dundonald over 400 Jersey cows in milk are kept together with about 180 yearling heifers and the same number heifer calves. All bull calves are culled on the first day of live because it is not economical to raise them for beefproduction. All cows calve between mid July and mid August and are dried off at the end of May. The success of this farm is based on a good pasture management. From July until October the grazing consist mainly of different cultivars of rye grass and from September the kikuyu grass starts growing and peaks in December and January. The cows are milked in a 24 point "rapid exit" milking parlour and is fed about 5 kg concentrate per day after milking.

Testing a Fleckvieh cow, from a beef mother amongst Jersey\'s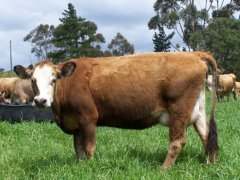 In 2002 a first lactation Fleckvieh cow, Kykso Halrexi (Rexon daughter out of a very beefy Hafke granddaughter) from the Kykso stud, Swellendam was transferred to Dundonald to see what her milk performance will be under an irrigation system compared to a dryland grazingsystem. She only had one month to adapt to the new herd and much more soar grazing as the cow was used to.
At the first milk recording she was among the top 5% of her age in the herd. When the concentrate was changed from a 19% to a 13% protein the milk production of all young cows dropped over a liter, but the Fleckfieh cow dropped only with 200 ml, putting her amongst the top 5 cows of her age! This fact helped allot to convince Mr. Barry and farm manager, Mr. Laesecke to start with a crossbreeding project, using Fleckvieh on some of the Jersey cows.


Jersey crossbreeding project
In the same year 20 cows were inseminated with Fleckvieh bulls like Randy, Samurai and Madiba . 7 out of the 13 calves that were born were heifer calves. A huge set back was when a dog killed two of the cross calfes. All crossbred bull calves were kept alive for fattening.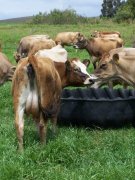 These bull calves showed very good muscling. The crossed animals growth and health was so extraordinary that the next year, 2003, 20 % of all Jersey cows were inseminated with Fleckvieh semen mainly Randy, Regio, Ruap, Hippo and Zentorio were used. All data were send to Mr. Carel Muller, researcher at the Elsenburg agricultural college who is monitoring the project. Mr. Muller\'s aim is to see how the crossbred animals do regarding milk production and milk quality compared to their fellow Jersey herdmates.
At the beginning of August the first crossbred animals calved, again due to Fleckvieh sires. These crosses just finished there first 120 day\'s in milk with extraordinary results.



Production comaparison between crossbred and pure Jersey
Crossbred animals are 90 kg heavier than Jersey counterparts.
Crossbred animals produce 15% more milk and gap is still widening, Sept. 1 kg more, Oct.1,9 kg more, Nov. 3,06 kg more, Dec. 3,3 kg more.
Solids almost the same. (Both fat of 4,3%. Jersey produce 0,08% more protein than crosses)
Condition score for crosses at 120 day\'s one better and for Jersey one down.
After 120 days the calves (75% Fleckvieh) of the crosses weigh more than 100 kg. The bulcalves of the Jersey counterparts is culled at the first day of live. ( Fed to crocodiles on a crocodile ranch)
At the beginning only the worst producing Jersey cows were inseminated with Fleckvieh. This one could see on the breeding values of the Jersey mothers.
Average breeding values of Jersey cows used: - 354.4 for milk kg; butterfat kg - 7.0 and protein kg - 9.9
On the other hand only the best Jersey bulls were used to sire the Jersey heifers used in the comparison to the crosses. The sires of the pure bred Jersey heifers were Berretta Jack (S. Africa), Molly Brook Glenwood Freedom (USA), Rivers Imperial (N Zeeland), Aliston Charles Lad (N Zeeland) and Kracka (N Zeeland). There average were + 483.4 milk kg, +30.8 fat kg and +23.6 protein kg.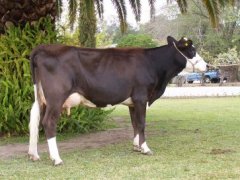 Possible reasons
Heterosis effect positive influence on production.
Good feed convertion of Fleckvieh carried over to crosses. The proof: mid October the good quality rye grass grazing came to its end where after the more harder kikuyu grass took over. During this time the purebred Jersey fell with 3 kg of milk against the crosses. (Fleckvieh is able to use not so good quality roughage still very economically.)
Flat lactation curve of Fleckvieh also in crosses. They produce after 120 days 2 kg more per day than there first milktest and the Jersey heifers 0,3 kg less than there first test and dropping fast.
Crosses got more chest space for there lungs and organs. Cope better with heatstress, better walking ability and better intake of roughage.
Average weights of heifers