The Proceedings of the 43rd ICAR Conference held in Prague (June 2019) are now available
13.12.2019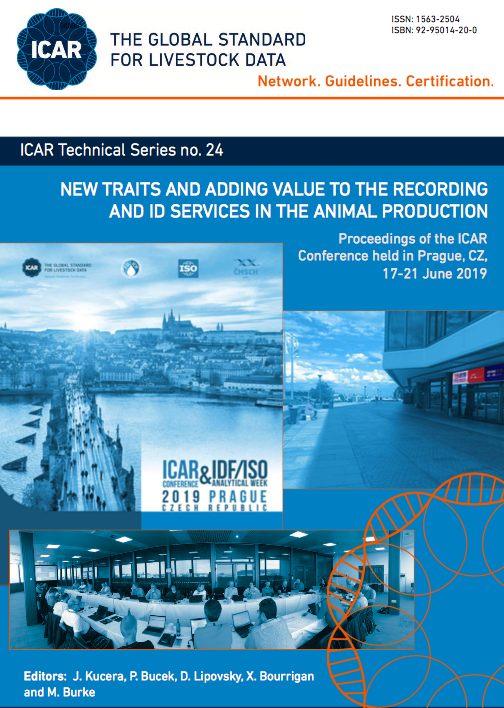 The Proceedings of the ICAR Conference held in Pague in June 2019 have been finalised and made available on ICAR site here while all the PPT presentations of the Sessions and Workshops as well as the pictures of the Conference are available here.

Thank to the excellent coordination of the Organisers with the presenters of the conference, the Proceedings collect the 60 most relevant manuscripts presented by the technicians involved in the recording sector, identification, laboratory analysis (both milk and genetic) and coming from the industry sector. The publcation provides an excellent opportunity to have an immediate idea of the new challenges that the sector has to face in its near future
Efficiently produced within 5 months from the finalisation of the Conference, the publication presents a comprehensive exposition about the lessons learned in the livestock breeding, demonstrating that the whole animal production sector need of coordinated and integrated actions to achieve intelligibility of results and efficiency in the action.

This year, the ICAR conference was held for the first time in the Czech Republic. Taking place in the capital city Prague, the event was hosted by the Czech Moravian Breeders' Corporation, Inc. and supported by the congress agency GUARANT International and the ICAR Secretariat. Like previous editions, this year's event was organised in conjunction with ISO/IDF Analytical Week, bringing together experts from across organisations to foster interdisciplinary collaboration.
Both events saw more than 450 delegates from 58 countries attending. The organisers were particularly pleased to have the opportunity to promote the rich agricultural heritage of the country. Attendees had the opportunity to visit a selection of the country's leading cattle farms, including the UNESCO world heritage site, the Kladruby nad Labem stud farm, home to the oldest indigenous Czech horse breed, the Kladruber.
The ICAR programme comprised meetings by various Working Groups and Sub-Committees, supplemented by two milk recording workshops and an Interbeef meeting. This year's event was created to reflect the wide interests of all ICAR members, with topics covering all species. The manufacturers showcase provided an opportunity for those working in the industry to exhibit their products and exchange information, while an expert panel convened to discuss the future of cattle milk recording. In total, there were more than 140 technical and scientific presentations. Participants were introduced to animal breeding in the Czech Republic through various field trips.