WG Type Traits - Slovakia 2019
28.10.2019

Participants of the internetional meeting for type classificators in Slovakia 2019. / Die Teilnehmerinnen und Teilnehmer am internationalen Exterieur-Meeting in der Slowakei 2019.
Fleckvieh Europe: together even stronger
Bernhard Luntz, Institute for animal breeding, Grub
The enthusiasm for Fleckvieh breeding is omnipresent not only in our country, but also in our neighbouring countries in Europe. It therefore makes sense to exchange ideas on topics for constructive cooperation and the development and application of new methods. The European Conformation Group therefore meets annually in order to further harmonise Fleckvieh breeding in the countries with the aim of bringing the populations together as far as possible.
At this year's meeting, Slovakia was the host country for the first time and provided the best conditions both for the presentation of the expert contributions and for the practical exercises. As a kind of basic information, the state of the use of spot scores was reported from the countries. Dr. Krogmeier pointed out how the evaluation results have developed in the countries of the common breeding value assessment. The regular training of the classifiers and the clearly defined guidelines for the application of spot scores have led to a very good agreement between the partners in recent years (see Figure 1). This ensures the prerequisite for a uniform data basis and the cross-national exchange of sires enables reliable breeding values. Other countries are already preparing to join our breeding value estimation system with a great deal of commitment.
The aim of the exterior evaluation is also to test new characteristics for their suitability for practical use time and again. Since the area of claw health is becoming more and more important, it is worth considering whether additional information can be provided in addition to the claw dress characteristic. Over a longer period of time, the claw angle was therefore described linearly in Germany and Austria. The results, evaluated and presented by Dr. Krogmeier, show only a low hertitability. In addition, there is a high correlation to the feet and legs traits. Therefore, no further recording is made.
Further points were milking behaviour and evaluations of the overall score. The milking behaviour was redefined and is recorded on a 4-level scale in Germany and Austria. All countries were recommended to adopt the scale, as in the foreseeable future an estimation of the breeding value of milking behaviour will become the standard. The currently not yet published total score of exterieur shows a close relationship to the service life. A breeding value estimate for total score is available.
An essential part of the meeting of the country representatives is the practical part. The participants had to evaluate six cows via the online application for Fleckscore. The Polnohospodarske farm (250 Fleckvieh cows) provided the best conditions for this. The results were compared on the basis of a standard evaluation. Individual deviations were discussed in a debriefing at the cows.
The summary: the journey for the participants from nine countries was successful and valuable. Fleckvieh in Europe must continue to cooperate in the future. Finally, the colleagues from Slovakia were praised for the very good preparation. Next year, Bavaria will be the host country.
Europa ruckt zusammen
Bernhard Luntz
Nicht nur bei uns ist die Begeisterung für die Fleckviehzucht allgegenwärtig, sondern auch in unseren benachbarten Ländern in Europa. Es ist deshalb sinnvoll, sich zu Themen für eine konstruktive Zusammenarbeit und der Entwicklung und Anwendung neuer Methoden aus zu tauschen. Die euroäische Exterieurgruppe trifft sich deshalb jährlich, um die Fleckviehzucht in den Ländern weiter zu harmonisieren, mit dem Ziel die Populationen möglichst zusammen zu führen.
Beim diesjährigen Treffen war erstmals die Slowakei Gastgeberland und sorgte sowohl für die Vorstellung der Fachbeiträge als auch bei den praktischen Übungen für beste Bedingungen. Als eine Art Grundinformation wurde über den Stand der Anwendung von Fleckscore aus den Ländern berichtet. Dr. Krogmeier zeigte dazu richtungsweisend auf, wie sich die Bewertungsergebnisse in den Ländern der gemeinsamen Zuchtwertschätzung entwickelt haben. Die regelmäßigen Schulungen der Klassifizierer und die klar definierten Vorgaben bei der Anwendung von Fleckscore haben in den letzten Jahren zu einer sehr guten Übereinstimmung zwischen den Partnern geführt (siehe Grafik 1). Dadurch ist die Voraussetzung für eine einheitliche Datengrundlage gewährleistet und der länderübergreifende Vererberaustausch ermöglicht verlässliche Zuchtwerte. Mit viel Engagement bereiten sich bereits weitere Länder auf den Beitritt in unser Zuchtwertschätzsystem vor.
Ziel der Exterieurbewertung ist es auch, immer wieder auch neue Merkmale auf ihre Praxistauglichkeit zu prüfen. Da der Bereich Klauengesundheit immer stärker in den Focus rückt, ist es Überlegenswert, ob neben dem Merkmal Klauentracht auch noch Weitere eine Zusatzinformation liefern. Über einen längeren Zeitraum wurde deshalb in Deutschland und Österreich der Klauenwinkel linear beschrieben. Die Ergebnisse , ausgewertet und vorgestellt von Dr. Krogmeier, zeigen aber nur eine geringe Erblichkeit auf. Außerdem besteht ein hoher Zusammenhang zu dem Fundamentmerkmalen. Auf eine weitere Erfassung wird deshalb verzichtet.
Weitere Punkte waren Melkverhalten und Auswertungen zur Gesamtnote. Das Melkverhalten wurde neu definiert und wird in Deutschland und Österreich auf einer 4-stufigen Skala erfasst. Allen Ländern wurde eine Übernahme der Skala empfohlen, da in absehbarer Zeit eine Zuchtwertschätzung auf Melkverhalten zum Standard wird. Die aktuell noch nicht veröffentlichte Gesamtnote (GN) zeigt eine enge Beziehung zur Nutzungsdauer auf. Eine Zuchtwertschätzung für GN steht bereit.
Ein wesentlicher Bestandteil der Zusammenkunft der Ländervertreter ist der Praxisteil. Die Teilnehmer mussten sechs Kühe über die Onlineanwendung für Fleckscore bewerten. Der Betrieb Polnohospodarske (250 Fleckviehkühe) ermöglichte dazu beste Bedingungen. Die Ergebnisse wurden anhand einer Standardvorgabe verglichen und jedem Land ausgehändigt. In einer Nachbesprechung an den Kühen wurden individuelle Abweichungen diskutiert.
Das Resümee: die Anreise für die Teilnehmer aus neun Ländern war erfolgreich und wertvoll. Fleckvieh in Europa muss zukünftig noch weiter kooperieren. Abschließend wurde den Kollegen aus der Slowakei für die sehr gute Vorbereitung ein großes Lob ausgesprochen. Im nächsten Jahr wird Bayern das Gastgeberland sein.
Im Zeitraum August 2018 bis August 2019 wurden aus den Ländern 90.880 Exterieurbewertungen für die gemeinsame Zuchtwertschätzung nach Grub geliefert.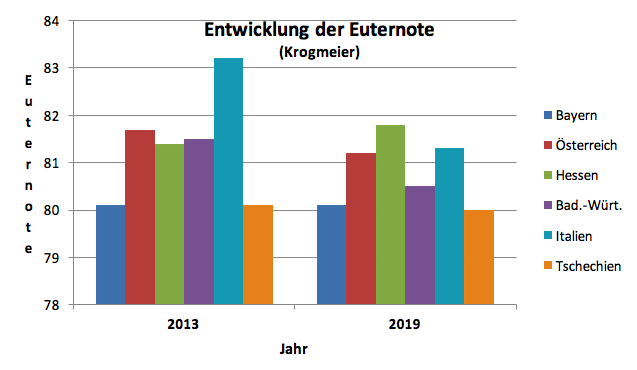 Am Beispiel Euternote: über die Jahre haben sich die Bewertungsergebniss angenähert.